Key benefits of the system
Hygiene:
Odour elimination. The dewatered food waste has a very low fermentation rate because most of the water content has been drained
No food waste stored at kitchen level –reducing risk of cross contamination
Eliminates transportation of food waste around the premises – reduces labour cost
Operational:
Separation of food waste from other waste, reduces disposal costs
Eliminates food waste transportation issues –reduces labour costs
Automatic self cleaning cycle require no human intervention at dewater level
Simple efficient design reducing maintenance and service costs
High power food waste stations (2,2 kW) ensure a long term heavy duty solution
Compact food waste storage room required as the food waste is reduced in volume by up to 80%
Installation:
50 mm. diameter plastic piping allows for simple installation to new building or existing premises
A bespoken solution because the system is flexible and modular
Social:
Provides an environmental friendly solution to food waste disposal
Meets the current legislation;
The dewatered food waste can be used as a high quality feedstock for Anaerobic Digestion systems or for Composting.
FOOD WASTE IS FED INTO A HOPPER AT FOOD WASTE FREE STANDING STATIONS
FOOD WASTE IS GROUND AND AUTOMATICALLY PUMPED AND TRANSPORTED BY WATER THROUGH 50 mm. PLASTIC PIPES TO A TEMPORARY STORAGE TANK – OUTSIDE THE KITCHEN
FOOD WASTE IS THEN DE-WATERED BY A CENTRIFUGE UNIT AND HYGIENICALLY STORED IN A 120/240 litre BIN UNIT, AWAITING COLLECTION FOR ENVIRONMENTAL FRIENDLY DISPOSAL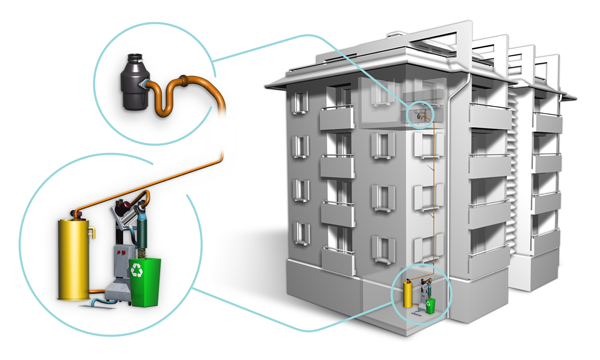 Key technical features
Disposer: 2,2 kW with Impeller Geared Motor Pump 0,75 kW – grinder capacity up to 150kgs per hour / 250÷400 meals per hour
PP Storage Tank: with Mixer 0,22 kW and pressure level sensors – capacity 300 and 600 litre
DEHYDRA: Dewatering Selfclean Unit 1,1 kW – capacity 30 litres of wastewater per minute
Installation technical requirements
Water supply connections: cold and hot water Ø ¾ or ½"
Electrical power supply: 3 phase 400V – 50Hz – Socket: 3P+Earth – 16 Amp (4 wires)
Dedicated drainage line: Ø 50 mm. pipe required
Drain connection: Ø 50 mm. pipe required
Machine warranty: 1 year
Notes
The Modular and Remote De-Watering System is in compliance with CE rules and each part of the system is complying with the following pertinent rules and technical specification:
EC Machine Directive 2006/43/CE
EMC Directive 2004/108/CE – Electromagnetic compatibility directive
Main technical standards applied: UNI EN ISO 12100-1 – UNI EN ISO 13857 – UNI EN 954-1 – CEI EN 60204-1